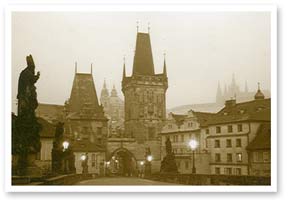 A Note from Roger
People often ask me where I get ideas for new music. One very obvious way is playing older music that speaks to me, that I admire. It takes a long time of living with a piece of music to understand its levels of meaning. In preparation for a recent trip to Italy I was playing sonatas by Scarlatti on the piano. Many parts of these pieces are pretty, but there are strange parts too. Wild dissonances, unusual harmonies.
Much of this wildness is related to the Mediterranean aspect of Scarlatti's music. I play it on the Steinway, but Scarlatti wrote it for the harpsichord. And he probably was inspired by the various lutes, mandolins, fiddles and wind instruments of the polyglot culture that one would more accurately call Mediterranean than any national property.
I am also looking at traditional Greek music--encountering scales that survive from ancient times with half and whole steps in unexpected spots. The 8-string bouzouki is a perfect instrument for exploring this--the long neck and pure tone encourage a linear style of playing, almost like flying. I'm trying this on the guitar too!
For me, travel is an essential element in clarifying the dimensions of what a new composition can be (what music means to us). How else to understand the intensity of tango? To post-ironic jaded US ears, this music can sound hopelessly corny. You must experience a tango culture to really know the necessity of tango. All the cliches (this music is really passionate, etc.) cannot explain why, 70 years after the death of tango singer Carlos Gardel, people still bring flowers to his tomb. Why they light him a cigarette or cigar and place it in the fingers of his statue. Or why dancers still cling to funky tango parlors as they cling to each other. You go to Buenos Aires, you drink and breathe it in, you say, 'oh yeah, now I get it.'
I identify with an artist like Goethe who clearly saw himself and his art existing beyond the borders of nationality. His own (for the times) extensive travels in Italy, for example, gave him inspiration for seemingly unrelated works like Faust. Yet Faust, like all great art, is also beyond time - a drama of particulars that transcends to the eternal.

Where The Heck Is The Hellespont? Or…what was I thinking when I signed up to swim from Europe to Asia?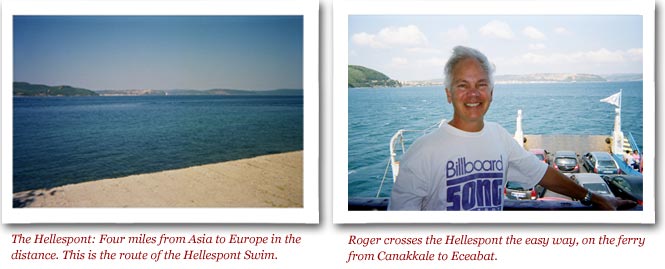 "Swim The Hellespont": ingredients to the song

Call it crazy. Call it unnecessary. Laugh if you will. But in August 2010, Roger Latzgo swam the Hellespont, the strait in Western Turkey separating Europe from Asia .

If you were a bird, the flying distance from shore to shore would be about one mile. But the famously swift currents bring the swimming route to about four miles. The quickest recorded time for the swim crossing is about 40 minutes. The regular ferry service crosses the channel comfortably in half an hour for the ticket price of one Turkish Lira, about 75 cents.

So why would you want to swim the Hellespont?

The Hellespont first appears in mythology with the figures of Hero, a priestess of Aphrodite at a temple on the European side, and Leander, her lover, who would swim nightly from the Asian side to tryst with her. Leander would be guided to Hero by a lamp she hung in her window. One night, the story goes, the lamp blew out in a storm and Leander got lost and drowned. Upon discovering this, Hero leapt to her death on the rocks below.

In historical times, the strait was the scene of Xerxes army's crossing into Europe and later of Alexander the Great traveling in the opposite direction at the start of his conquest of Asia.

There are numerous literary references to the Hero and Leander story through the ages. In 1810, Lord Byron added his voice to the legend when, on a second attempt, he swam across the channel in one hour and ten minutes. Byron's love of classical antiquity was his main impetus, although he credited Leander with better motivation (love) than his own (glory).

Roger has been fascinated by the ancient world since grade school, when he first encountered Greek mythology. Hollywood classics, though often fanciful, added romanticism to the subject. So actually swimming the Hellespont was a culmination of many threads in his artistic journey.

The swim itself is officially a race organized by the Canakkale (Turkey) Rotary Club and Swimtrek, a London-based operator of open water swims. The event is held annually on August 30, Turkish Independence Day and allows a maximum time of 1 hour and 30 minutes for the crossing. The Hellespont, also known as the Dardanelles, is the world's busiest shipping lane and can only be closed to this traffic for a short time.

Here are some pages from Roger's travel notes:

Saturday, 28 August 2010, 6:50 PM
I am in Canakkale, checked in to the hotel, showered, and walking about. I will have a roommate, Boris Romanov, who has not yet arrived in town. Boris is also a swimmer and is a medical doctor.

I find a place to have lahmacun (a kind of Turkish pizza), salad and ayran (3 TL). Not a fancy joint, informal but quite good. I can see the channel. This place is mostly a bakery. I hope the dust on the table is flour. They use a wood-fired oven and are really turning out baked goods, apparently serving other restaurants. The dinner hour was just beginning, and many waiter types were stopping by for large baskets of bread. They serve food mostly as an afterthought.

I leave the bakery and walk through the outdoor part of the Naval museum. This will be the finish line for the swim. Spectacular setting! I see some of the other swimmers—I'm relieved that they don't look like Olympians. I hope to be at least competitive.

For a libation I make a change of venue…I am at a harbor bar/restaurant for an Efes, a popular Turkish beer. I begin a conversation with a Turkish guy at the next table. When I tell him I'm planning to swim the channel, he laughs. When I ask him if he had done it, he laughs harder.

Men are fishing at the pier. One catches a very small fish, about 3 inches long. Feral cats are looking on eagerly. The fisherman feeds it to one of them—much growling over it by the other cats. The cats are bony.

Bicycles are going by with home-made wooden platforms on the crossbar for carrying bigger loads. Cruise ships are going up the channel toward Istanbul. They look large, but I know there are ships twice that size. The one I saw in Kusadasi yesterday was enormous.

After some days of digestive and respiratory problems I must be feeling better…I have actual hunger today. I had yogurt this morning and ayran, the zingy yogurt drink, twice later. I've taken my 3 sinus pills today.

Before returning to the hotel I walk with some fellow swimmers along the waterfront. Here they keep the wooden horse used in the recent Troy movie. At the same place, they display a model of Troy VI (Homer's Troy) and some replicas of pottery from the time. We also see some street jewelry crafters and buy ice cream (2 TL). Also see an amazing sundial that tells time within 5 minutes, indicates the date of the year, the astrological signs, etc. The science of astronomy is part of the Islamic heritage.

I must get to bed early. I meet Boris who arrives as I am writing in my journal. He has brought his collection of folding icons of St. Michael and Christos Pantokrator as well as some small figurines of a boat, a sailor and some others. He seems like a good guy.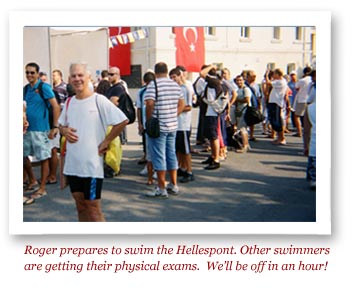 Monday, 30 August 2010
I wake up feeling the best in last couple days. Some phlegm but no stomach trouble at all. Boris sleeps "late" and goes running before breakfast. I go directly to the Hotel Kervansaray's very hospitable full spread. I make sure I have yogurt. And I snag a banana 'for later'. When I return to the room Boris is reading scripture and praying.

Today we swim from Europe to Asia! I feel fine after that power breakfast. OMG—I just realized that I have been wearing my swimsuit inside out! And this is a fancy racing suit, no less! What a rube I am!

Last equipment check: Do I have all my gear? Don't need the watch. Remember goggles, earplugs, water, soda, flip-flops and a couple of coins.

We have a second physical to corroborate yesterday's results (my BP was 110/70). They do not tell me the number today, but I am apparently ok.

We mill about getting our swim caps and ankle chips. The chips provide absolute ID and timing. It attaches firmly with Velcro: a white band, small disc with my cap number, 79. Any foreigner wears a white cap with a red number, Turks get red with white numbers. No discrimination or favoritism here, just so the rescue people know in what language to scream at you.

We check our gear in a van. I leave my cheapo camera there. I'm sure it will be ok. Security is organized by Rotary International.

I meet up with my buddy Boris Romanov. We tour the grounds of the fortress. It is Turkish Independence Day, and we get to see the museum. Fascinating stuff from the Gelibolu (Galipoli) campaign. The Brits at one point tried a Trojan Horse move…ran a non-combat ship aground at a beach and left it there for some time before the troops hidden inside emerged to attempt a beachhead. A garrison of Turks stationed nearby perceived the situation; and using only rifle fire from shore, repelled the advance and drove the Brits to rescue boats or killed them. The British general who planned it could not believe that mere rifle fire from land repelled the scheme.

At about 11:45 we board buses to take us, via ferryboat, to Eceabat on the opposite shore where the race will begin. The mood is a combination of festive anticipation and trepidation. The water is rough. What will that mean? We don't know.

All the swimmers, in their swim gear and bare feet, have left the buses and are milling about the decks of the ferry. The sun is strong, and many swimmers are applying sunblock. Then there are the regular passengers in street clothes. It is an odd sight.

We dock at Eceabat. Our bus now takes us to a spot downstream from town. There is about 10 feet of pebbly beach past concrete barriers. This is our starting point.

The swimmers are now getting jittery. Some give the waves a try. The guide boats are skittering all over the place, out of control. I am stretching and trying to keep a winning attitude. But it looks daunting out there.

At this point, Simon Murie of Swimtrek comes down the beach to speak to his swimmers. It is loud and chaotic. The wind is whipping the waves. He shouts "I recommend you NOT go. I've never seen the waters this bad. It could be dangerous. We'll have an alternate swim. You can of course go at your own risk."

Well, I did not come all this way to wimp out now. The Earth Shaker Poseidon must be angry. We should have sacrificed to him!

The race organizers come very close to cancelling the swim, it is that bad. We cannot make out our guide boats amidst the chaos. Without the guide boats to mark our path we must rely on landmarks on the opposite shore. "Head for the tower, then the stadium."

The gun sounds and we're off with a huzzah. But it is almost like the boys going over the top into enemy machine gun fire…we are all but beaten back by the waves.

I try the crawl, then the breaststroke. I get no glide. When I attempt to tread water and catch my breath it is almost as strenuous as swimming. So I press on. I try not to look back.

I keep looking at the tower. Suddenly it comes to me…I might not make it. I really might have to quit. Why am I doing this? But I guess I have to see it through. A rescue boat comes by and asks if I am ok. I grab hold for a bit to catch my breath. "Only a little farther till the current can take you. 300 meters."

So I get back on it. Feels like digging a hole with your hands. Am I getting anywhere?
Finally I get to the point where the current will propel me to the finish. The swimming is really no easier, and I seem to make more headway on a non-stroke than when I am pulling water.

Moving now. I pass the stadium. I pass the ferry dock. It is like riding the back of some great creature.

Soon I can actually see the finish. Not far ahead. I've been straining for seem like forever. Just a bit more!

I pretty much stagger up the ramp, gashing my knee on the way. I hear the signal that registers my ankle chip. Photographers, fans, I see little. I am out of the water. Then I see the clock…my time must be under 1:10.

Many sponsors vying are for attention by providing refreshments…water, power drinks, sandwiches, etc. I am so delirious. I wander about sipping juice and eating a sandwich.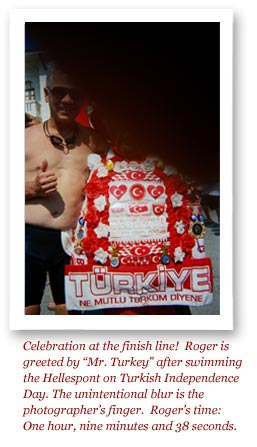 I see the leader board…the winner is a teen age Turkish guy. 38 minutes! How the hell did he do that?! Amazing.

Eventually my category is posted (age 61 to 65) and, sumbitch, I am 4th! 1:09:38! A bit faster and I might have had bronze. But I am ecstatic to have placed and finished. I learn later that about half did not finish (250 completed the swim out of 461) and dozens bailed out before the start. One woman swam into a school of jellyfish and was hospitalized, her face all purple. Another swimmer ran off course and had to be hauled out. He was headed for Italy.

Mostly from inertia I stay for the awards ceremony. Turns out to be a good presentation. They go through the Leander story again. The Turks claim this myth, as well as the Anatolian heritage of Troy. And why not? The peoples then were neither modern Greek nor modern Turk. Or, putting it the other way around, modern Greece and modern Turkey have equal claim to a cultural heritage that developed in their present territory many centuries ago. The Anatolian culture in Troy can be clearly demonstrated in pottery, building style, etc. Likewise, the Mycenean megaron, or central palace room, is obvious in Troy.
I stay till the end of the awards when 79-year-old Jane Asher, world famous open water swimmer, is acknowledged. She beat my time by 6 minutes. One of our Turkish guides, Metap, won the race a few years ago. I ask her 'will you swim again?' "No…then I was a swimmer. Now I am a smoker."
On Swimming the Hellespont
I still have the cough
The scab on my knee
Still fresh and crusty
Gift of Dardanus
Formidable winds
Revving the currents
Ride the wild creature
Once you have found it
Fight for a mile, then
Think you may perish?
Imagine to fail
How could you bear it?
So ask me "what next?"
Must there be something?
Let the scab heal
I will breathe clearly
(Written September 2010)
Copyright 2010 Latzgo
Here are the lyrics to Roger's song about the Hellespont swim:

SWIM THE HELLESPONT
Canakkale...is about 4 miles away
A boat ride....is 30 minutes one way
The channel...is swift and deep and strong
So why try...to Swim The Hellespont?
CH Why would you want to
Why would you want to
Why would you want to
Swim the Hellespont?
Swim the Hellespont?
Swim the Hellespont?
Leander...he swam it every night
Made love to Hero...swam back by rosy light
One night he lost it...he perished in a storm
Hero joined him...'cause she was so forlorn.
] Why did he want to
Why did he want to
Why did Leander want to
Swim the Hellespont?
Swim the Hellespont?
Lord Byron...said it wasn't just a tale
For glory...he traced Leander's trail
He's a poet...he didn't make a song
Wrote five verses...Byronic Sturm und Drang.
Why did he want to
Why did he want to
Why did Lord Byron want to
Swim the Hellespont?
Swim the Hellespont?
Swim the Hellespont?
My Baby...she begged me not to go
"Don't leave me...and our daughter all alone
But Darling...if you must have this thrill
Before leaving...please update your will."
Why did he want to
Why did he want to
Why did he want to
Swim the Hellespont?
Swim the Hellespont?
Poseidon...he roared and raged that day
He mocked me...saying he would have his way
The waves roiled...I choked on surging brine
But I got over...in about an hour, nine.
Why would you want to
Why would you want to
Why would you want to
Swim the Hellespont?
Swim the Hellespont?
Swim the Hellespont?
My cough's gone...but a scar is on my knee
Signed "Poseidon...Shaker of Earth and Sea"
And on my tombstone...I'll tell you what I want
"When He Was Sixty...He Swam The Hellespont"
CH Why did he want to
Why did he want to
Why did he want to
Swim the Hellespont?
Swim the Hellespont?

(copyright October 2010)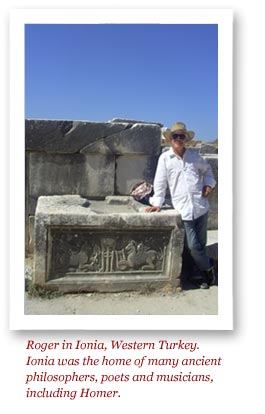 "A Rose From Homer's Grave": how I did it

Full disclosure: this is not a photo of Roger standing by Homer's grave. Roger is standing amidst the ruins of a temple to Apollo in Miletus on the western coast of Turkey, an area known in ancient times as Ionia. While nobody knows exactly where Homer is buried, at least ten places contend for the honor.
Homer was probably born, lived and died in Ionia and wrote of events that occurred centuries before he lived. Adventurers and scholars have accepted the essential veracity of his epics. The Iliad and Odyssey are the foundation of Western literature.
I've always loved Homer and someday hope to grasp his work in the original Greek. Till then, I will connect with him in translation, through music, travel, and more contemporary literature.
Hans Christian Andersen wrote over 170 stories including one titled "A Rose From Homer's Grave." It is a very short story (about 3 pages) and singing my song based on it takes about the same time as to read the story. But the message is clear: we all connect to Homer, no matter what our era.
A Rose From Homer's Grave
Words and Music by Roger Latzgo
Not far from Smyrna, in a leafy glade
Camels, a caravan, resting in the shade
Here I saw a rosebush in full bloom
Rosebush growing out of Homer's tomb.
Chorus:
Here is a rose, a rose from Homer's grave
Here is a rose, a rose from Homer's grave

One rose blossom, most beautiful of all
Round this blossom a nightingale's call
Singing of his joy and pain of love for the rose
Rose turns away, bird's passion only grows
Chorus
"Here rests the greatest singer ever known
To him goes my fragrance, to him my petals blown
He nourishes me who sang Achilles's tale
How can I bloom for you, poor nightingale?"
Chorus
Nightingale sang and loved with all his breath
Poor little bird, he sang himself to death
Camel driver buried the bird in Homer's grave
Rose dreamed and trembled, someone taking her away?
Chorus
Beautiful day, the rose was in full bloom
Boy from the north visits Homer's tomb
Picked the rose and pressed it in his book
Here is the flower, come and have a look
Copyright 2001 Latzgo
This featured selection is a recap of Roger's travels in 2009
My partner Rachel and I began 2009 with a trip to Barcelona, a place known for its cuisine, culture and music. We stayed in the Barrio Gotico, an area of adventure in the early 20th Century for a young Pablo Picasso. While much of this quarter is now somewhat gentrified, there are still many gritty night spots including the wild absinthe hangout called Bar Marsella.
While many museums around the world are filled with the works of Picasso and Miro, only Barcelona can boast the greatest works of Antonio Gaudi such as Sagrada Familia, Casas Batllo and Mila and Parc Guell. Gaudi speaks to every artist who ever attempted to create the impossible and realize a vision on the grandest scale.
The cuisine was more than we expected! The range of tapas and Catalan specialties was amazing and we did our best to sample them all. This western end of the Mediterranean is magical!
During a cool, comfortable summer I performed at Musikfest in Bethlehem, PA. I did several shows of "ethnofunkology" for the festival goers and met some interesting people. Shortly after Musikest in August, I set out on a long-awaited trip to Turkey. Rachel was unable to accompany me for reasons that will later become obvious. Personally, I've been fascinated by the Eastern Mediterranean ever since I first read Homer (and saw Hollywood portrayals of Greek and Roman mythology).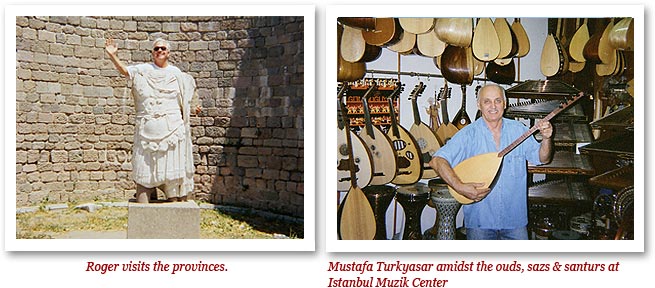 It was an amazing journey into a complex culture. Lots of music on non-tempered instruments like the baglama saz. I was able to watch the Aya Sophia from my hotel rooftop at 3 a.m. as I adjusted to the new time zone. I was able to trace the steps of Achilles around "the high walls of Troy" in the words of Homer And the wind still sweeps over the plains before Priam's Troy just as it has done for centuries.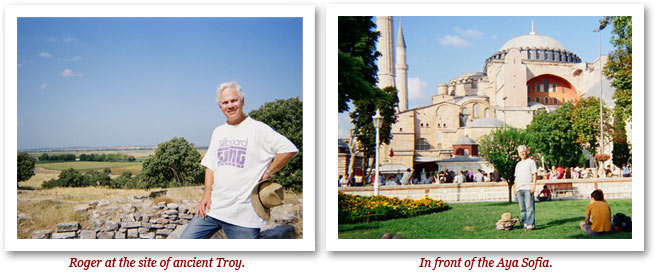 The western coast of Turkey is home to the archaeological sites of Ephesus and Pergamon. I saw some of the wonders of the ancient world, including great libraries in both cities. Among the world-changing technological developments here are parchment replacing papyrus -- and the end-bound book replacing the much less convenient scroll.
Not far off the coast of western Turkey are many fascinating islands, and I was able to cross the wine-dark sea by ferry to visit Samos, birthplace of Pythagoras and the ancient site of a temple to Hera. I think of Pythagoras every time I try some carpentry around the Chateaux Latzgeaux or tune an instrument. In both cases, Pythagoras led the way.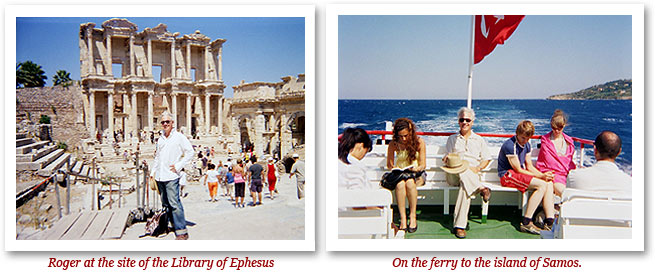 For expert travel arrangements in Turkey or the Eastern Mediterranean, check out www.allhotelsbooking.com or www.troublefreeholiday.com
copyright 2010 Latzgo